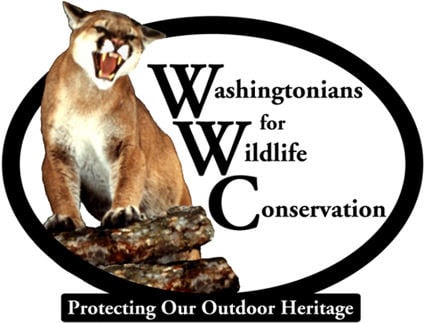 On Friday, September 11, 2020 the Washington Fish and Wildlife Commission will take a vote on a proposal to outlaw "hunting" contests, which in reality is a vote to eliminate coyote contests. Both the Hunters Heritage Council and Washingtonians for Wildlife Conservation are 100% against this proposal and have sent in testimony against it.

The animal-rights groups groups have sounded the battle cry and have flooded the last Commission meeting meeting with testimony in favor of flawed and dangerous proposal. It's our turn to to be loud. WWC is strength through unity, an united sportsmen's voice. We are sounding the alarm and asking everyone to sign up to testify, or to send their testimony in. Here is a fact sheet with plenty of information to build your testimony Coyote Contest Fact Sheet

The Commission meeting starts at 8:00 on Friday and the proposal will be heard at 10:30 AM. If you want to testify it is via Zoom and you have to register. To register, click on the Commission agenda September Commission Agenda

If you want to send your testimony via email, there are three swing Commissioners, Jim Anderson, Don McIsaac, and Molly Linville. Their email addresses are below:
Jim Anderson
Molly Linville
Don McIsaac

It is crucial that we beat this short-sighted proposal. Thank you for your support of Washingtonians for Wildlife Conservation!

Mark Pidgeon
President of Washingtonians For Wildlife Conservation
On March 9th, Senators Gardner (CO), Manchin (WV), and 56 other bipartisan Senators introduced a historic bill to provide significant funding to increase public access to public lands and waters. Senate Bill 3422, the Great American Outdoors Act, will provide $9.5 billion over 5 years to address our public land maintenance backlog (totaling $12 billion), with nearly $3 billion set aside to benefit lands and waters that sportsmen and women depend on. S. 3422 will also provide permanent and full funding for the Land and Water Conservation Fund at $900 million annually.
Your support, as a conservationist, is necessary to ensure the passage of the Great American Outdoors Act. This legislation already has support from President Donald Trump and 43 sportsmen conservation groups, including Safari Club International, Congressional Sportsmen's Foundation, Ruffed Grouse Society, National Shooting Sports Foundation, Pheasants Forever, Ducks Unlimited, and the National Wild Turkey Federation.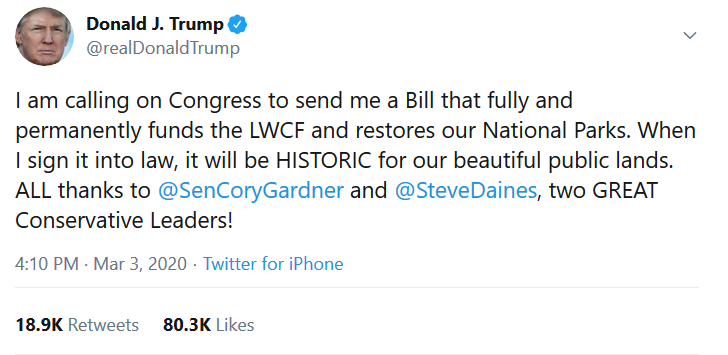 Enacting the Great American Outdoors Act will be among the greatest conservation victories in our lifetime and has the potential to be the most significant step that Congress has taken to drive public land access and conservation to benefit sportsmen and women in decades. It will expand outdoor recreational opportunities for millions of hunters and anglers, while spurring local economic development in communities across the country.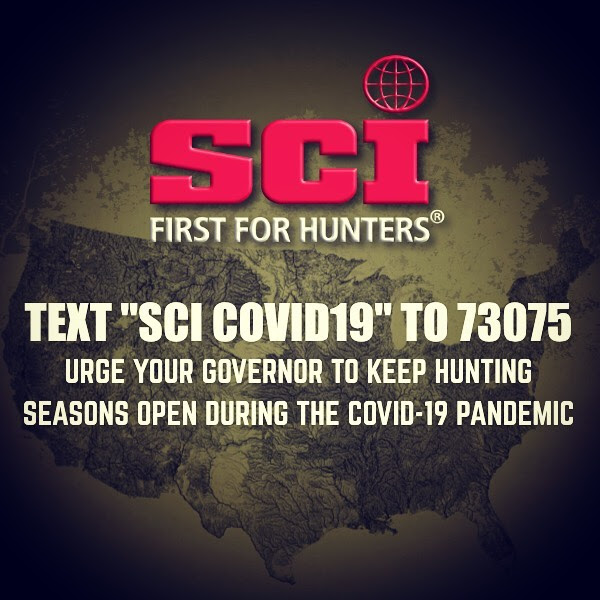 During the difficult and uncertain times brought on by COVID-19, sportsmen and women need hunting now more than ever. With some hunting seasons being cancelled in places like Alaska, Nebraska and Washington, and public lands being closed, NOW is the time act to make sure sportsmen and women can still enjoy the outdoors in a safe and responsible manner. Act now and urge your Governor to keep hunting seasons and public lands OPEN during the COVID-19 pandemic!